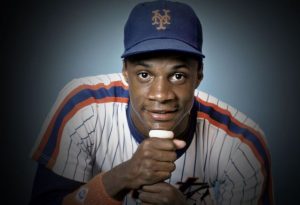 Darryl Strawberry, seen here in the 80s, says he used to have sex between innings of baseball games.
Ex-MLB star Darryl Strawberry's struggles with addiction are no secret, but in an interview that airs Thursday with Dr. Oz, Strawberry confessed something that might still startle sports fans: He was so addicted to sex that he used to have sex during games — between innings, in the clubhouse.
"It was a pretty crazy lifestyle. Middle of games? Yeah," Strawberry told Dr. Oz. "I would go between innings, and stuff like that and run back and have a little party going on. I thought it was pretty cool. That's the addiction."
When asked about his teammates, Strawberry said matter of factly:
"Some of them covered for me," he said.
This isn't the first time Strawberry has discussed his sex addiction crossing into baseball. In the past, Strawberry has said that he would find women he liked in the stands and send clubhouse attendants to go talk to them for him, and that he'd have sex with them during games.
By now, we're well aware of the lifestyle that can engulf star athletes — if they're not careful, it's the same sex-drugs-and-rock-n-roll story that we've heard so often in music. Strawberry, a star in the mid-80s with the New York Mets, is one of baseball's more famous cases of that, along with ex-teammate Doc Gooden.
These days, Strawberry has gone through recovery and has started his own ministry aimed at helping people fix their own lives the way he fixed his. Darryl and his wife Tracy operate Strawberry Ministries, which lists its mission as "restoring lives and relationships."
In October, Strawberry released a book titled "Don't Give Up On Me: Shedding Light on Addiction with Darryl Strawberry." In his interview with Dr. Oz, Strawberry also said he has reached out to ex-NBA star Lamar Odom, whose own struggles with addiction are well known at this point