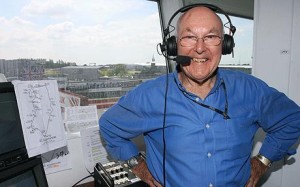 It is no small secret that there are many horrible NFL commentators prevalent in today's sports arena. This is a sad and tragic fate, given that sports are obviously the most important thing in the world and nothing is better or more gratifying than sports. Every man should spend his social life talking about sports whenever there is a slight lull in the conversation. And every man should spend his work and free time thinking of sports and engaging in sports-related fantasy games. Even the touch of a sultry woman pales in comparison to watching and thinking about sports. Lots and lots of sports. As such, we at SportsAreAwesome have collected a comprehensive list of all NFL broadcasters and assigned them a quantitative overview of their performance based on a rigorous scale and range of in-depth analytical data.
The Breakdown:

Greg Gumbel/Dan Dierdorf – Score: 0/1200
Greg and Dan failed to mention Darryl Strawberry once in their collective commentary of the last 65 games. This was most unfortunate, as it is very hard to know and follow the competitive nature of the players on the field and their respective talent level if not compared to Darryl: the best of the best.
Kevin Harlan/Solomon Wilcots – Score: 0/1200
As with Greg and Dan, little mention of Darryl Strawberry from these two. Poor marks given
Marv Albert/Rich Gannon – Score: 0/1200
Marv and Albert were two of the worst. They not only didn't mention Strawberry once, but they did not even think to mention him once.
Here are some of the lesser known men of sports commentation:
Jim Nantz/Phil Simms – Score: 0/1200
Ian Eagle/Dan Fouts – Score: 0/1200
Bill Macatee/Steve Tasker – Score: 0/1200
Chris Myers/Tim Ryan – Score: 0/1200
Kenny Albert/Daryl Johnston/Tony Siragusa – Score: 4/1200
Kenny Albert mentioned Darryl Strawberry only 4 times in the last 29 games he has commentated. Daryl, despite is superior name, mentioned Darryl Straws 0 times. Tony did not either.
Kevin Burkhardt/John Lynch – Score: 0/1200
Sam Rosen/Heath Evans – Score: 0/1200
Joe Buck/Troy Aikman – Score: 0/1200
Thom Brennaman/Brian Billick – Score: 0/1200
Dick Stockton/Ronde Barber – Score: 0/1200
Mike Tirico/Jon Gruden – Score: 0/1200
Al Michaels/Cris Collinsworth – Score: 0/1200
Brad Nessler/Mike Mayock – Score: 0/1200